Heat stroke in dogs: symptoms and how to act 2023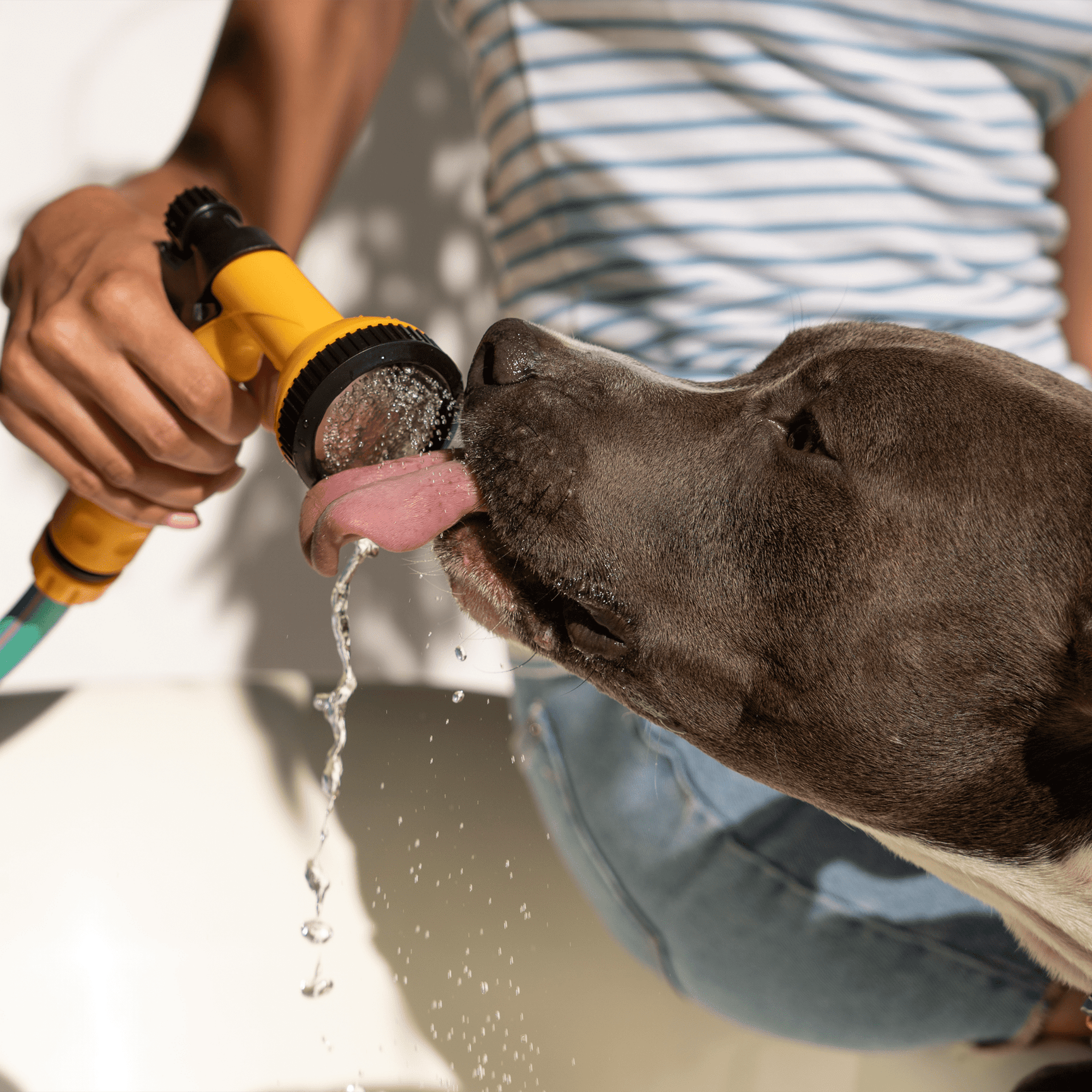 We have recently witnessed the increase in temperature due to the heat waves that have affected the country and believe me, our pets have also noticed it and even suffered. High temperatures put the health of our furry ones at risk in the same way that they affect us, so avoiding them or recognizing them in time will be crucial to saving their lives.
This blog will provide you with key information to know how to act in such a situation. You will be able to identify what a heat stroke is, the symptoms, what to do, the consequences, among many other relevant data. Are you interested in the subject? I invite you to continue reading and together with Waggy's, continue to inform yourself for the good of our pets.
What is a heat stroke?
Heat stroke is the body collapse caused by high temperatures that can lead to the death of our pet. In the case of dogs, this happens because, since they do not have sweat glands spread throughout their bodies, the only way they can regulate their body temperature is through panting and the pads on their paws. However, this process is slow and does not end up being enough to resolve the situation.
Symptoms of heat stroke
These are the symptoms that will allow you to detect if your pet is suffering from heat stroke:
Acceleration of the heart rate.

Loud gasps.

Difficulty breathing.

Tremors, muscle weakness and lack of balance.

vomiting

Frothy saliva drooling.

Bright red tongue and mucosa that ends up degrading to a bluish color due to deficient oxygenation of the blood.
What to do if a dog has heat stroke? Step by Step
Now that you've identified that your pet is suffering from heat stroke, stay calm, you can still help him. Make your way to the veterinary clinic and in the meantime, do the following:
Continuously wet the pads and the belly of the animal with water (neither cold nor hot). This will help lower your body temperature.

Place it in a cool and airy place.

It is recommended to massage the bottom of the dog's paws.

Try to drink fresh water without rushing. It is important to give it in considerable quantities, neither too much nor too little.
When you are at the clinic, it is important to describe in detail the situation that your dog has suffered, so that the vet can act with greater precision and save his life.
How do you lower a dog's temperature?
To lower your pet's temperature, there are several actions you can do, ranging from keeping its pads moist, putting it in the shade, or even using a fan to cool it down. Likewise, it is important that as soon as you identify the symptoms you contact your veterinarian. He will know how to give you more instructions and help you at the moment while you arrive at the clinic.
How long does it take for a dog to recover from heat stroke?
The recovery time after a heat stroke will depend on its intensity and severity. The consequences can be temporary or permanent, however, the heat stroke that our pet is going through should not last more than 10 minutes. If after all the actions you have taken to help him you do not see improvement after this time, it is extremely important that you urgently take him to the vet because the consequences can be severe.
That visit to the vet can become an extremely overwhelming situation for your pet, that's why Waggy's offers you natural treats for dogs with 100% natural CBD for dogs , which will help calm that stress and anxiety in dogs typical in these situations and thus, the session with the doctor will be successful.
I invite you to read the article: All about Cbd for dogs , to inform you of all the benefits that these prizes provide and their recommended doses.
How to prevent heat stroke in dogs?
Some of the risk situations that should be avoided are the following:
The high temperature outside.

High environmental humidity, which makes it difficult to eliminate water vapor from the body.

Lock the animal somewhere where the ambient temperature is too high: a car, a balcony in the sun, a room without proper ventilation.

Forcing the dog to exercise under the sun in conditions and times that are not suitable for them.

Expose the pet to heat and do not have access to fresh water.
High-risk breeds and dogs
All furry ones can be victims of this situation, however, there are some characteristics that increase the risk that our pet may suffer heat stroke:
Brachycephalic or flat-nosed dogs: their anatomy does not allow them to breathe as fluently as other breeds.
Elderly dogs and puppies with a less efficient thermoregulation system.
Dogs of Nordic breeds or prepared for low-temperature climates. If your pet is some

type of husky

, I invite you to find out about this type of dog by reading the article.

Dogs with some type of heart or respiratory failure.
Sick or debilitated dogs. You must pay full attention that your pet is not suffering from diseases of any kind, such as: Distemper in dogs

,

Leishmaniosis in dogs

,

Parvovirus in dogs and

epilepsy in dogs

, since heat stroke would be counterproductive.
Consequences and complications of untreated heat stroke in dogs
As with recovery, the consequences and complications depend a lot on the intensity or severity of the heat stroke, but some of these could be damage to the brain, muscles, lungs, liver, inflammation of the respiratory tract, circulation problems, loss of of salts and sugar, renal and hepatic failure, cerebral edema, gastrointestinal bleeding and in the most pronounced cases it can even lead to death. In a deeper way:
Organic damage
Heat stroke can cause damage to various organs in the dog's body, including the brain, heart, kidneys, and liver. If not treated in time, these organs can suffer irreversible damage.
Organic failure
In severe cases, heat stroke can lead to multiple organ failure. Systems in the body can stop working properly, which can result in circulatory collapse, kidney failure, or even death.
Neurological problems
Elevated body temperature affects the central nervous system of dogs. This can lead to seizures, ataxia (loss of coordination), disorientation, and behavior changes. In severe cases, there may be permanent brain damage.
Coagulopathy
Heat stroke can affect a dog's blood clotting ability, increasing the risk of internal and external bleeding. This can be dangerous and require immediate medical intervention.
Heart damage
Extreme heat stress puts great strain on the dog's heart, which can lead to cardiac arrhythmias, congestive heart failure, or even cardiac arrest.
Respiratory problems
During heat stroke, dogs can have difficulty breathing due to stress and inflammation of the lungs. This can lead to respiratory failure if not treated properly.
Severe dehydration
Heat stroke can cause rapid and severe dehydration in dogs, which can lead to electrolyte imbalance and organ dysfunction.
Conclusion
In conclusion, heat stroke is a situation that, depending on the factors, can be fatal for our pets. It is up to us to take care of them and ensure that our dogs are exempt from suffering one of them since, as we have seen throughout the blog, it is an event that can be prevented and also treated in time.
It is in us the reflection and empathy to ask ourselves, if we do not like exposing ourselves to the sun because we get dizzy or tired too much, why would we do that to our pets? Taking care of them is paramount.
---