Ice creams for dogs: 10 original and safe recipes 2023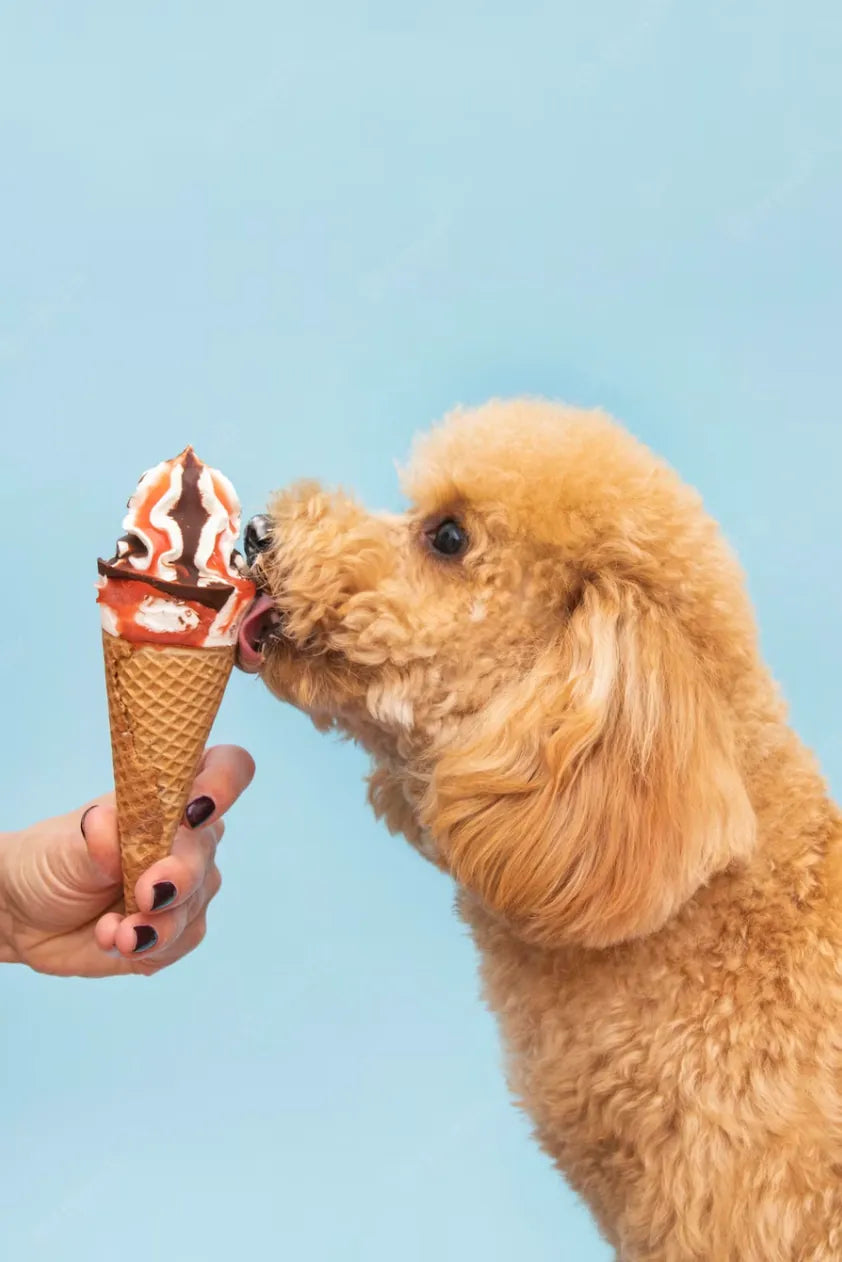 Foods as rich and longed for as homemade dog biscuits or ice cream are not exclusively for humans, did you know? Our four-legged best friends also deserve a treat or their "free meal" of the week and rest assured that they will love some ice cream.
Dog ice creams will always be your best ally in hot weather. This will help your dog to lower or maintain his body temperature appropriately while you feed him and delight him with a delicacy for his palate.
Stay to read this blog and together with Waggy's discover the best ice cream recipes for dogs. Don't go!
Can dogs eat ice cream?
Of course they can, we just have to make sure they contain the right ingredients for them. We cannot give them an ice cream that we commonly consume, that could be very toxic for them.
An ice cream will always help your dog to cool down since, even though they are very versatile animals, the regulation of body temperature is not exactly their forte.
What should an ice cream for dogs have?
The variety of ingredients that you can use is very wide. You can try wet food, fruits, meat, vegetables, herbs, among many others. Just at all times, keep in mind that it is your dog that you are doing it to. You know what he likes and what he doesn't.
If we can give you any recommendations, we know that apples, bananas, carrots, pumpkins, potatoes, oats, natural yogurt, meat pâté and broth are the perfect ingredients to make your ice creams.
Also, before using cottage cheese or yogurt as a base for its preparation, you should ask your veterinary doctor to determine if your dog is suitable for that ingredient or will not tolerate it.
How to make homemade ice cream for dogs?
It really is very easy and we assure you that you will have a good time since cooking for someone we love is always the best. Here we break down 10 ice cream recipes for dogs that are easy to make and above all, too tasty:
Quick and easy dog ​​ice cream recipes
Yogurt and Fruit Ice Cream
Ingredients:
2 unsweetened Greek yogurts
1 banana
2 strawberries
1/2 apple
Elaboration:
Prepare some ice cream molds and add a spoonful of yogurt in each one.
Chop a banana and divide it among the 4 containers.
Add another tablespoon of yogurt.
Cut up the half apple and divide it up.
Add another tablespoon of yogurt (optionally with a supplement for dogs, such as Golden paste).
Chop the strawberries and do the same.
Now one more tablespoon of yogurt.
Add some meat flour and freezer for at least 6 hours.
Soy and Viscera Ice Cream
Ingredients:
4 tablespoons of textured soy
250 ml of chicken broth
75 grams of offal (livers, gizzards, brains…)
Elaboration:
Add 4 tablespoons of textured soy in a small bowl and rehydrate.
Chop the innards and add them together with the rehydrated soybeans.
Freeze 4-6 hours.
Banana Ice Cream
Ingredients:
Half a ripe banana
Natural yogurt without sugar or lactose.
Elaboration:
Mix both ingredients in the blender glass and beat at high power.
Put the mixture in a container or in the yogurt container itself.
Put the container in the freezer for a minimum time of 3-4 hours, until you get the consistency of ice cream.
Rice Milk and Pear Ice Cream
Ingredients:
A cup of rice milk.
Half a pear or one if it is small.
Elaboration:
Peel and chop the peel, removing all the seeds and the central part, the hardest.
Put the cleaned pieces in the blender, add the rice milk and beat.
Pour the prepared mixture into an ice cream mold or t-shirt.
Put the mold in the freezer and wait until your ice cream cube is ready.
Chicken ice cream
Ingredients:
A small chicken breast fillet
Half a cup of vegetable broth
A few peas or a carrot
Elaboration:
Put the chicken breast to cook together with some vegetables, such as carrots or peas. Do not add salt or pepper.
Remove the broth from the heat and allow it to cool.
Crumble the breast and put the pieces in the blender glass. Add a few tablespoons of broth and, if you like, a few pieces of carrot or boiled peas.
Bat at high power.
Distribute the mixture in molds and put it in the freezer until the future dog ice cream solidifies.
Fruit and Vegetable Ice Cream (Without blender)
Ingredients:
A sugar-free and lactose-free yogurt
medium small pumpkin
3–4 strawberries or raspberries.
Elaboration:
Chop the pumpkin and the red berries into very small pieces.
Mix the pieces directly (without beating) with the yogurt. Spend a few minutes turning it over so that the fruit integrates perfectly with the yogurt.
Put in the freezer for a few hours and you already have a delicious ice cream for your pet.
Goat Milk and Forest Fruit Ice Cream
Ingredients:
Goat milk, preferably raw
Blueberries and Strawberries (or Raspberries)
Honey
grated coconut
Apple
Elaboration:
Chop the fruit.
Add the coconut and honey to the milk and mix.
Add the rest of the ingredients and mix well.
Serve cold or freeze for later.
Chicken Broth Ice Cream with Pear
Ingredients:
Elaboration:
For the broth, put half a breast and a chicken skin (which will generate some gelatin).
Strain the broth.
Chop the fruit and vegetables.
Add it to the broth and mix well.
Add the chicken to the mixture and pour the contents into containers.
You can serve cold or freeze it for later.
Melon and Yogurt Ice Cream
Ingredients:
1 slice of melon.
1 natural unsweetened yogurt.
Elaboration:
Chop the melon and remove the seeds.
Put it in the blender glass next to the yogurt.
Beat until you get a homogeneous texture: you can add water if it is too thick.
Pour the mixture into the container that you are going to put in the freezer.
Freeze for a few hours until hard.
Fake Chocolate Ice Cream
Ingredients:
1 natural Greek yogurt.
2 heaped teaspoons of carob flour.
1 teaspoon of honey.
35 grams of dog biscuits like Waggy's.
50 grams of ripe banana.
Elaboration:
Combine the carob flour with the banana and spachurra.
Add honey, yogurt and crumble the chicken biscuit.
Take to the freezer.
Prohibited ingredients ice cream for dogs
Many times we have talked about the foods that are prohibited for our furry ones, however a small reminder never hurts. The foods that you should avoid at all costs in any of your preparations are milk with lactose, sugar or sweeteners and especially chocolate. Also remember that in the dog biscuits article we also alluded to never giving them raisins, grapes, onions, garlic, among others.
Conclusion
In this article we return to the importance of varying the diet of our pets, nobody likes to eat the same thing every day and we all need a sporadic treat. Just like cookies, ice creams are an excellent alternative to delight your pet and even to reward them for some good act or behavior. If you are interested in learning about another type of diet that you could give your puppy and thus vary the food as we recommend, I recommend that you read the articles: barf nutrition , best dog food , fruits and vegetables that dogs can eat .
At Waggy's We try to bring you the best content to guarantee the physical and mental well-being of your pet. That is why we want to make one last recommendation, our Waggys Wellness products are the best treats for puppies on the market , an excellent source of nutrients since their ingredients are 100% natural and designed specifically for them. They contain CBD for dogs , which helps lower stress and anxiety levels in dogs . In addition, they are an excellent source of Omega 3 for dogs , a necessary and essential component for the development of our pet.
We invite you to meet them, try them and why not? Even creating an ice cream recipe with them. If so, we would love for you to share them with us on social networks. See you next time!
---