Toxic Plants for Cats: What They Are and Symptoms of Poisoning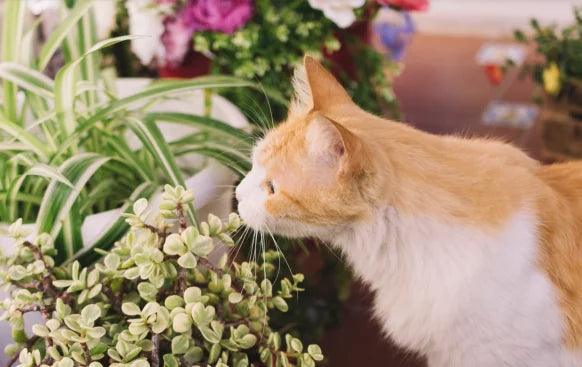 Cats, dogs and humans by nature are curious because, to a large extent, it is one of our stages of exploring the environment in which we live. As has been discussed in other articles, the mouth or snout is one of our methods of discovering it, which is why it is important to limit the things our pets have access to.
In this article you will discover 40 toxic plants in cats, symptoms, prevention among other information that will help you continue providing the best quality of life for your pet. Stay reading!
What are poisonous plants for cats? The 40 most toxic
Lily or
Lilies are highly toxic to cats and can cause acute kidney failure if ingested.
Azalea
Azaleas contain toxic substances that can cause gastrointestinal, cardiac and neurological problems.
Rhododendron
Similar to azaleas, rhododendrons are toxic and can cause serious symptoms in cats.
Yew
All parts of the yew are highly toxic and can cause seizures and heart problems in cats.
Dieffenbachia
This plant contains calcium oxalate crystals that cause irritation in the mouth and throat of cats.
Foxglove
Foxglove is toxic and can affect the cardiac system of cats, causing arrhythmias and other heart problems.
Creek
Calla lilies can irritate cats' mouths and throats, resulting in difficulty swallowing.
Cyclamen
Cyclamen roots are particularly toxic and can cause vomiting, diarrhea and heart problems.
Philodendron
Philodendron contains calcium oxalates that can irritate cats' mouths and throats, and in some cases, cause kidney problems.
English ivy
English ivy can cause gastrointestinal and neurological problems in cats if ingested.
Holly
Holly is toxic and can cause gastrointestinal and neurological problems in cats.
Hydrangea
Hydrangea flowers contain toxic substances that can cause serious gastrointestinal problems.
Tulip
Tulips are toxic and can cause gastrointestinal problems in cats.
Daffodil
Daffodils are poisonous and can cause vomiting and diarrhea in cats.
Datura
Also known as jimsonweed, this plant contains toxic substances that affect the nervous system.
Croton
Croton is toxic and can cause gastrointestinal and neurological problems in cats.
Lantana
Lantana is toxic and can cause gastrointestinal and neurological problems.
Sword fern
Some ferns can be irritating to cats and cause gastrointestinal problems.
Croton
Similar to croton, this plant is toxic and can cause gastrointestinal and neurological problems in cats.
Elder
Elderberry is toxic and can cause gastrointestinal problems in cats.
Some others are:
Diephembachy
Peach
Apple tree
Boxwood
Pothos
Begonia
Oleander
cherry laurel
Diphembakia
Alder
Euphorbia
Ficus
Poinsettia
lucky bamboo
Rosemary
Wisteria
Tape
Mistletoe
Fir tree
Aglaonema
Symptoms of a cat poisoned by plants
As with any disease, symptoms may vary depending on the amount ingested, the concentration and the type of plant. However, Waggy's together for you the 10 most common:
Vomiting
One of the most common symptoms of plant poisoning in cats is repeated vomiting. The cat may vomit immediately after ingesting the plant or within hours. This symptom may be accompanied by fever in cats
Diarrhea
Diarrhea is another common gastrointestinal symptom in cats poisoned by plants. It may be liquid and contain plant remains.
Excessive salivation
Some toxic plants can cause increased saliva production in the cat, which manifests as excessive drooling.
Lethargy
Intoxicated cats may become lethargic and show a lack of energy or interest in their surroundings.
Loss of appetite
Plant poisoning often reduces cats' appetite, and they may refuse to eat.
Difficulty swallowing
Irritant plants can cause difficulty swallowing and pain when doing so. Even cat meows are affected due to this irritation.
Seizures
In severe cases of plant poisoning, cats may experience seizures.
Respiratory problems
In severe cases, some toxic plants can affect the cat's respiratory function.
Eye or nose irritation
If your cat comes into contact with a toxic plant and rubs its eyes or nose, it could experience irritation in these areas.
Changes in heart rate and blood pressure
Some toxic plants affect the cardiovascular system, which can lead to changes in heart rate and blood pressure.
If you have any of these symptoms, it is important to take your pet to see the veterinarian. If you see that cats have the famous stress, it is recommended that you give them some product that calms them down, so the veterinarian can treat them without problems. Try Waggy's CBD products for cats , find out the administration doses by reading the article: CBD in Cats
Tips to prevent your cat from eating plants
Provides safe plants
As mentioned above, you can have cat-safe plants at home. If your cat has access to these plants, she is less likely to be interested in toxic plants.
Catnip plant
Catnip is a great option for keeping your cat entertained and away from your other plants. You can grow catnip in pots and place it in a place accessible to your cat.
Place plants in inaccessible places
Place uncat-safe plants on high shelves, in inaccessible areas, or inside a room your cat can't enter.
Use natural repellents
Some cat repellent scents, such as lemon, orange, or eucalyptus, can keep cats away from plants. You can rub citrus peels around the pots or use essential oils diluted with water to spray around the plants.
Provide toys and distractions
Keep your cat entertained with interactive toys and stimulating activities. A busy cat is less likely to seek entertainment from your plants.
10 Safe Plants for Cats
Catnip
Catnip is known for its stimulating effect on cats. You can grow it in pots or gardens, and cats often chew it and rub against it for pleasure.
Mint
Mint, like catnip, is attractive to many cats. They love its aroma and often chew it or play with it.
Chive
Chives are a safe plant and can add a touch of flavor to your meals. Many cats like to play with it.
Basil
Basil is a non-toxic plant that you can grow at home and use in cooking. Some cats may find its scent attractive.
Parsley
Parsley is safe for cats and can be used in cooking. Some cats may be interested in this plant.
Chamomile
Chamomile is known for its calming properties and is safe for cats. You can make a chamomile infusion and offer it to calm your cat in times of stress.
Rosemary
Rosemary is a non-toxic plant that you can grow at home and use as an aromatic herb in your meals.
Strawberry
Strawberries are safe for cats and can be an interesting option for growing in pots.
Calendula
Calendula is a safe and attractive plant for cats. Its bright flowers can catch your attention.
Lavender
Lavender is safe for cats and can have a pleasant scent. Some cats may find it interesting.
Conclusion
In conclusion, toxic plants represent a potential danger to cats, as ingestion of certain species can cause a wide range of health problems, from gastrointestinal irritation to serious conditions and even death. Maintaining a safe and healthy environment for your cat is an important responsibility as a pet owner. Prevention and education are key to avoiding problems related to toxic plants and ensuring a happy and healthy life for your cat.
---