Best dog toys you didn't know about 2023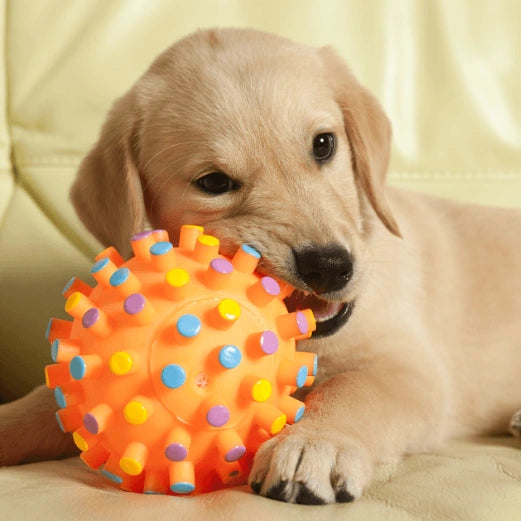 It is known to all that the favorite activity of our pets is to play, right Waggyfriends?
Playing is a fun and healthy activity for the well-being of our pets that it is important to contribute to it. Our furry can play alone, in the company of other animals, we can play with them or better yet, buy special toys for them.
In this blog we will tell you about the best toys you can buy for your dog. I invite you to read it and discover what are the qualities or characteristics that you should take into account when acquiring one of them. Let's get to it!
Waggy's Crazy Ball
This is a first! Soon our Waggy's Crazy Ball will go on sale. It is one of the best toys you can buy for your pet because the size of the ball is perfect, it is interactive, it has integrated lights to make it more striking, and it is very easy to clean. The interaction and physical activity that our pets will have with this toy will be high and we assure you that they are made with the best quality materials, suitable for them and durable. Our furry ones will love it.
Remember that on the web you will also find the best prizes for puppies on the market, and made with ingredients of the best quality, natural and specially designed for them. Waggy's Awards contain natural ingredients, some of them are chamomile, which helps the digestive system giving balance and relaxation. They also contain olive oil that provides benefits to our furry's skin, hair, and heart, but above all, they contain CBD for dogs , which helps lower stress and anxiety levels in dogs . In addition, they are an excellent source of Omega 3 for dogs , a necessary and essential component for the development of our pet.
Waggy's Crazy Mouse
Now, for our cats we also have options. Waggy's crazy mouse will become the best choice for gaming because its practical and interactive design will make it too attractive for them. It is a rechargeable toy that moves on its own and also has color-changing lights to make it more eye-catching. Likewise, this toy is made of durable and suitable materials for them. They will soon be on the market, so you don't run out of them!
String toy
Dogs really like to bite and pull objects, so this toy will keep them busy for a long time, making them expend a lot of energy for the effort. The strings are normally woven with nylon which makes them resistant to rough use.
KONG Classic
It is a toy that stimulates mental health and provides benefits by satisfying the instinctive needs of the dog. It is made of rubber which gives it an irregular bounce for games of fetch and pick up. Our pets will love it.
Flavored ball
These balls are made from safe, non-toxic materials that are safe for dogs. What makes them different from conventional balls is that they are infused with dog-appealing flavors such as meat, chicken, bacon, or even some fruit flavors.
Rawhide knuckles
Leather teethers are the most pleasant to the touch. Being made of a natural, soft and pleasant-smelling material, dogs especially like them. Normally the bite area is made of leather, while the handle is made of another material, usually very resistant fabric.
Pull toys: They are those in which our furry must pull them for the toy to move, either in front or behind. These toys usually have wheels and some cord, tape so they can bite from it.
Puzzles or puzzles for dogs
These puzzles are ideal to stimulate your mind. The puzzles for dogs hide food balls in their pieces, so that the dog can find them.
Stuffed animals with strings
These toys often have a soft, stuffed body that can be appealing to the dog, especially those who enjoy softer textured toys. In addition, they have built-in ropes, usually made of strong materials such as cotton ropes or synthetic fibers, that protrude from the body of the stuffed animal.
Latex toy for dogs
They are soft but more durable than the first. And if they are 100% latex, there is no risk of poisoning by ingestion.
Cotton rope teethers
Cotton rope chews are toys designed for dogs to bite and chew. They are made of strong, durable cotton ropes that are intertwined to form a sturdy and safe toy. These teethers are popular due to the benefits they provide for dogs and their owners.
If you are interested in knowing why dogs bite everything , I recommend that you click on the link.
Animal shaped toy
Animal-shaped toys are toys designed to provide entertainment and stimulation for dogs during play. These toys usually have shapes, colors, and textures that resemble different animals, such as dogs, birds, bears, ducks, among others.
Frisbees for dogs
We all know frisbees, it is necessary that when buying one we take into account that the material with which they are made is suitable and special for them, we must also check if it is soft or hard, the color, the grip and the quality of the flight.
Know the pet friendly beaches where you can play frisbee in the summer.
Tennis ball
There is no problem with tennis balls that are specifically designed for them. Those that are designed for our use are not recommended due to the materials, they can be toxic for them when it comes to biting.
Hard rubber ball
These balls are made from strong rubber materials, making them more durable and suitable for dogs that tend to chew and destroy softer toys.
Lacrosse ball
The Lacrosse Ball is a small semi-elastic ball that our pets find a lot of fun. Its size is perfect so it makes it more interesting and comfortable for them.
Rugby ball for dogs
The rugby ball for dogs is made of latex, elastic, soft and resistant to bites. It is a simple and very fun toy that will keep your pet entertained for hours, especially running through the garden, park or field.
Food dispenser toy
These toys are designed for our four-legged friend to use his intelligence to play and eat at the same time. It must be made with materials that allow you to see, hear and smell the food that we put on it, otherwise it will not work.
Search and sniff toy
These toys will help reinforce their training to follow directions and develop their abilities to jump, catch, and search for objects like a ball or Frisbee.
Teddy with pockets
Many dogs love these dolls and fortunately there are several designed for them, made with resistant materials such as nylon. From time to time you could leave one of his Waggy's prizes in the pocket of the stuffed animal so that our furry one can find a reward while playing.
Toy with compartments
Balls or toys with holes to hide treats inside can keep your dog entertained for quite a while, giving you some free time to relax.
Recommendations for choosing the right toy for my dog
Appropriate size
The size of the toy should be appropriate for the size of your dog. Small toys can be dangerous for large dogs, and large toys can be unwieldy for small dogs.
Durability
Look for toys that are strong and durable so they don't break easily and could be dangerous to your dog.
Security
Make sure the toy materials are safe for your dog. Avoid toys that contain toxic materials or that can be easily torn or swallowed.
Interactivity
Interactive toys can be a great option to stimulate your dog's mind and keep him entertained.
Your dog's preferences
Observe your dog and find out what kind of toys he likes best. Some dogs prefer soft, chewy toys, while others prefer sturdy chew and tug toys.
Physical activity
If your dog is very active, look for toys that allow him to run, jump, and chase.
Dog age
Younger dogs need toys that help develop their chewing and play skills, while older dogs may need softer, easier-to-chew toys.
Conclusion
There you have it Waggyfriends, there are many alternatives to help distraction, physical and mental health of our pets and in this blog, we develop everything you need to know about the best toys of this year. We invite you to be aware of our upcoming releases and of course, our weekly blogs. Greetings.
---